7 tips for keeping a data cabinet tidy
8th February 2019
You almost certainly have a data cabinet at your workplace. If you have an in-house IT team, or an outsourced IT Team we would expect and hope that the cabinet (or cabinets) are tidy.
If that isn't the case, this blog lays out some best practice for keeping cabinets tidy. An untidy cabinet can be a safety concern and cost you time and money, as it can be impossible to see at a glance what cable is doing what.
Joe Newton is our Technical Manager. These are his top 7 tips for keeping your cabinet tidy.
Colour Code Patch Leads
This makes tracing cables and troubleshooting a lot easier. In the image of our cabinet you can see the colours we have used.They are:
Yellow – IP Phones
Black – Digital Phones
Green – Analogue Phones, and fax machines, PDQ's, modems etc)
Pink – IP DECT
Blue – PC's and other generic IP devices such as printers
Purple – Wi-Fi
Orange – IP CCTV Surveillance
Red – Business critical cabling that multiple users and devices rely on. Cables that link, for example, the telephone system to network; a router and or firewall to the network; switch to switch; servers to the network etc.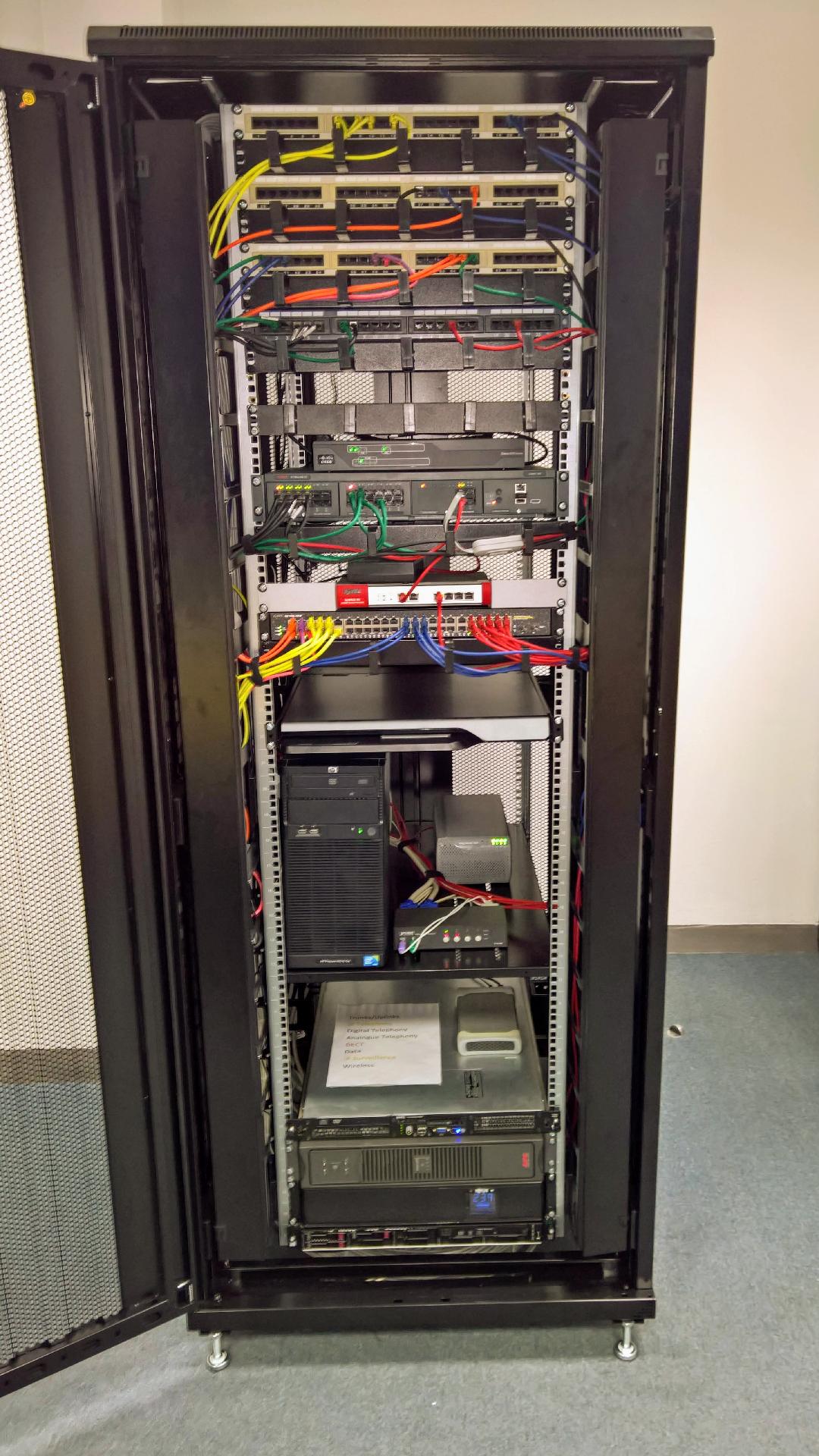 Always use the correct length patch lead
Leads that are too long are wasteful, and the waste (and cost) adds up.It also means cables are more likely to tangle and be a mess.
Ensure cables follow cable management
Cables that follow cable management rather than running from one device to another will help keep order.
Always remove unused patch cables
This may seem like common sense, but we have seen many cabinets full of unused patch cables which can make troubleshooting a challenge.
Have just one or two people responsible for patching
This helps to ensure that standards are maintained.
Where possible use a single PDU (Power Distribution Unit)
A PDU that is large enough to support all devices secured into the cabinet ensures there is no need for multiple extension leads which can lead to safety issues.
Keep data / patch cables separate to power cables
Power cables can affect the performance of data cables, so it is best practice to run them down opposite sides of the cabinet.
Have a look at your data cabinet. Is it Tidy? If not, share this blog with the person responsible, or if they or you would like it done professionally, give us a call on 1952 528000. Connexis are Telecommunication and Networking specialists based in Telford in the West Midlands.
Back To News & Blog